PR Web - Press Release 08-18-2011
Mobile4leads Today Announced the Launch of Their Fully Managed Mobile, Social & Local Restaurant Marketing Plan System, Personalized for Busy Restaurant Owners
Marketing a restaurant and tracking offers is easy with the color coded "calendar command center". Restaurant owners are assigned their own "personal support shark" who assists them in creating their monthly restaurant marketing plan of action. The Calendar Command Center" is the nerve center where all all offers, events, contests, & SMS messages are viewable while being promoted across multiple, Local, Social & Mobile channels.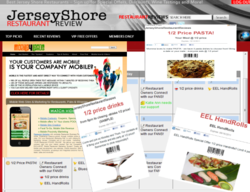 Mobile SMS Offers
Together we create your Restaurant Marketing Plan of action! We execute that plan for you, while you focus on food quality and customer care!
Long Branch, NJ (PRWEB) August 18, 2011
Frank Melocco managing partner at Mobile4Leads of NJ states: "Marketing a restaurant should be a tightly coordinated effort across Local, Social & Mobile Marketing sites for maximum results. In fact you'll get better results, rankings, and add more users to your marketing list, all at an overall lower cost to implement, when a tightly focused restaurant marketing plan is launched on your behalf".
The release of this system marks a unique "back to the basics" approach for marketing a restaurant. This is achieved through personal interaction, creation of a personalized marketing plan and adjusting that plan monthly while utilizing automation only where personal touch is not needed. Although many restaurant consultants are focusing on creating self administered software solutions for marketing a restaurant, mobile4leads has chosen the path of personalization. By removing the burden of technology from the owners or managers they can focus on creating excellent offers and running their day to day core business. The platform is comprised of top service providers' solutions for each technology segment. Integrating all these solutions into (1) platform for maximum efficiency and cost savings for the client. All offers and events are executed across local social and mobile properties multiple times each month.
As clients get started they're assigned their own private "calendar command center" access and complete a strategy session with their "dedicated support shark" monthly. Calendar access can be customized for viewing or editing by administrators or employees. All offers, reports of progress and tracking results can be found in the document library. Mobile4Leads's goal with each new client is to build a personal relationship, getting to know each business and the goals of each restaurant owner. Each client is personally assisted with creating their restaurant marketing plan monthly while reviewing and optimizing the past months results. The process is creative and interactive as they develop their monthly strategy of events and offers.
Offerings Include:
Social Media Management
Mobile Marketing SMS, Landing Pages
Local Search Optimization
Coupons, Events, Contests
Monthly – In house Programs
Page Design/ Social & Web
Facebook Solutions
E commerce Facebook Solutions
Landing Pages
Press Releases
Auto-responders
Tracking & Optimization
One of the services provided by mobile4leads is a complete restaurant marketing plan for in-house mobile marketing and list management. This service offers clients' upgraded access to their "personal support shark" to create monthly in-house mobile marketing campaigns. This is a complete service from design and printing through delivery of all marketing materials. The monthly service includes the creation of a new campaign each month with high quality signs and cards promoting the program. As each list collects new members' who agree to receive offers weekly, mobile4leads then adds SMS and landing page offers in weekly or bi-weekly promotions to each list. This complete system is also run through the calendar command center and is easy to use with all programs and offers viewable at a glance.
Attachments